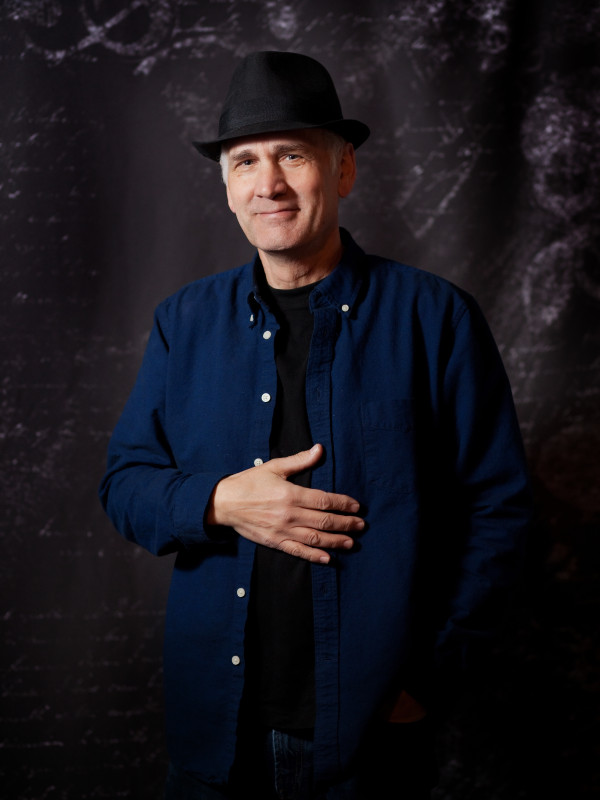 UP COMING EVENTS
No events at this time
JAMES DREIER:
Music enthusiast and lover of all things Latin Jazz
James Dreier is a drum set/Latin percussion specialist, educator, clinician, author and performer. He attended Berklee College of Music (B.M.) and the University of Iowa (M.A.). An early fascination with Latin music started Dreier on a road to discovery that led him on frequent research trips to Brazil, Cuba, and to study with leading exponents of Latin music. He was a founding member of the Latin jazz/salsa group "Orquesta Alto Maiz," that released eight CDs over a 26-year span.
Currently, Dreier is an Associate Professor of Instruction at the University of Iowa (jazz area), where his duties include directing the Latin jazz Ensemble and formerly co-leading the UI Afro-Cuban Drum and Dance Performance Group. Dreier is an Educational Artist for Sabian Cymbals and Latin Percussion Brand Musical Instruments.
ABOUT THE LATIN JAZZ GUIDE
This book is the culmination of a lifetime of interest, playing, learning and teaching Latin music. After seeing the need first hand, often expressed by hard working music educators rehearsing jazz bands with little time to research Latin issues, the need for a one-volume resource was clear. Where as there are plenty of detailed and style-specific resources (books about Afro Cuban, or Brazilian etc., many recommended in my book and on this site), there was nothing that covered the whole genre in a way that was practical, accurate and easy to use. It became my goal to create such a guide book. It was impossible to know the long road of research, discovery and hard work that lay ahead. Three different versions have been written, including a prototype that was tested by a wide variety of music educators that provided important feedback and suggestions. Then edited, checked, vetted, then checked again. It was important to me that my contribution to this amazing musical genre was the best I could present. Even though this book is now in print…the journey continues.

ACKNOWLEDGEMENTS
Any project like this requires a large network of family, friends and associates (too many to name here) to see it to fruition. I would like to thank the following people…
My family:
LeAnne, Casey, Derek and Virginia Dreier, my parents and entire family For providing support and the essential constants in life that allow for projects like this
Consultants:
Edgar East, Dr. Robert Washut (Northern Iowa), Michael Spiro (Indiana University), Steve Shanley (Coe College), John Rapson (University of Iowa), Randy Hoepker (Des Moines Hoover), Tim AuBuchon (Truman State), Bill Pringle (Iowa City Community School District), Dr. Erin Wehr (University of Iowa), James McCoy (University of Iowa Press) Rafael dos Santos (UNICAMP Brazil) and Zé Emílio Gobbo, Júnior
For your encouragement, knowledge, critical feedback and suggestions:
Musicians and Colleagues, Past and Present:
Michael Mossman, Ray Vega, Dr. Felipe Salles, Victor Mendoza, Dane Richeson, Alan Dawson, Ritchie "Pablo" Landrum, Paul Cunliffe, Dan Hummel, all current and past members of "Orquesta Alto Maiz," Wayne Wallace, Bill Scism, Steve Olenick, Gary Morgan, UI colleagues; Steve Grismore and Damani Phillips and my Cuban teachers; Jesús Alfonso Miró, Israel Berriel Jiménez, Daniel Alphonso and Jose Eladio Amat
For your music, guidance, influence and friendship
Book Design and Editing:
Charylu Roberts (O. Ruby Productions, book design), Ronny Schiff (primary editor), Maggie Schmidt (first draft editor), Drew Morton (cover design) and Molly Long (Molly Long Photography, portrait photographer)
For your vision and much needed professional input and contributions
Website Design, Video/Audio Recording and Editing:
Tom Barry (audio engineer and mixdown), Chris Merz (facilities at UNI), Jon Chamberlain and Bob Long (videographers), Kevin Mellen, website design www.creativemellen.com
For your help in creating this website and the content therein
—James Dreier